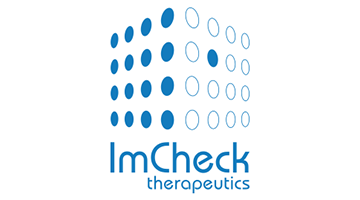 In June 2022, LLS made an equity investment in ImCheck Therapeutics to "Support Clinical Development of the ICT01 Program for Blood Cancer Indications."
ImCheck Therapeutics is designing and developing a new generation of immunotherapeutic antibodies targeting butyrophilins, a novel super-family of immunomodulators.
ICT01 is a humanized, anti-BTN3A (also known as CD277) monoclonal antibody that selectively activates γ9δ2 T cells, which are part of the innate immune system that is responsible for immunosurveillance of malignancy and infections. ImCheck's "first-in-class" activating antibodies may be able to produce superior clinical results as compared to the first-generation of immune checkpoint inhibitors and, when used in combination, to overcome resistance to this group of agents. A clinical trial (EVICTION) is currently enrolling a cohort expansion of ICT01 in combination with azacitidine and venetoclax in patients with acute myeloid leukemia (NCT04243499).
EVICTION-2 (NCT05307874) is a Phase I/IIa, two-part study, to characterize the safety, tolerability, pharmacodynamics, and antitumor activity of ICT01 in combination with low dose subcutaneous IL-2 in patients with advanced-stage solid tumors.
For more information about ImCheck, visit www.imchecktherapeutics.com/.
Recent News
April 18, 2023 - announced data from its ongoing Phase I/IIa clinical trial EVICTION-2 at the AACR Annual Meeting 2023 in a poster presentation titled: "First-in-Human Study of ICT01, an Anti-BTN3A Activating Monoclonal Antibody in Combination with Low Dose IL-2 in Patients with Advanced Solid Tumors (EVICTION-2 Study)". 
November 11, 2022 – at SITC, presented first patient data from EVICTION-2, a Phase I/II clinical trial evaluating the combination of ImCheck's lead program, ICT01, a γ9δ2 T cell-activating monoclonal antibody targeting BTN3A, combined with low-dose (LD) IL-2, to selectively expand the number of γ9δ2 T cells in relapsed/refractory patients with solid tumors. 
June 13, 2022 – announced the completion of an upsized $103 million Series C financing to advance clinical program of first-in-human gamma-delta T cell activating antibody and accelerate development of disruptive immunotherapeutic pipeline by bringing on board top-tier global venture funds Earlybird, Andera Partners and Invus and patient organization The Leukemia & Lymphoma Society Therapy Acceleration Program® (LLS TAP) to prestigious syndicate.